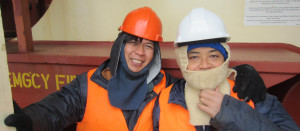 New England Seafarers Mission began in the 1880s with the arrival of the Swedish Covenant Church during the great Scandanavian immigration to the US. We began with a single pastor who worked the waterfront, visiting primarily crews from the many Swedish ships calling in Boston. Over the years, that ministry grew to include people from all over the world. Today, NESM provides services in Boston, Providence, Narragansett Bay, Portsmouth, and Portland. We have professional, paid staff in Providence and Boston, but members of local churches in New Hampshire and Maine have taken on the ministry in those locations.
Today, NESM remains part of the Evangelical Covenant Church, and we have an endorsement as a co-operating ministry of the New England Synod of the ELCA (The Lutherans). We are supported by individual congregations from a large number of denominations, including a few free churches as well.
Volunteers make up the strength of NESM and multiply our effectiveness. We encourage all people to become part of our volunteer force. You may go to the Home page at any time to support NESM by underwriting our operations or by becoming a Member of the Crew.
Wander through the topics in this subject area, and learn more about New England Seafarers Mission.
To learn more about the history of NE Seafarers Mission, download the attached Booklet.