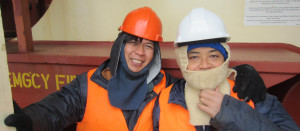 Who We Are & 

How You can Help
New England Seafarers Mission began in the 1880s with the arrival of the Swedish Covenant Church during the great Scandanavian immigration to the US. We began with a single pastor who worked the waterfront, visiting primarily crews from the many Swedish ships calling in Boston. Over the years, that ministry grew to include people from all over the world. Today, NESM provides services in Boston, Providence, Narragansett Bay, Portsmouth, and Portland. We have professional, paid staff in Providence and Boston, but members of local churches in New Hampshire and Maine have taken on the ministry in those locations.
Today, NESM remains part of the Evangelical Covenant Church, and we have an endorsement as a co-operating ministry of the New England Synod of the ELCA (The Lutherans). We are supported by individual congregations from a large number of denominations, including a few free churches as well.
How You Can Help – 
There are any number of ways for you and/or your church/group to get involved. We believe each person has TIME, TALENT and TREASURE to donate;
Would you like to be involved in our Cruise Ship Mission Ministry? Spend a short day with us and you'll meet seafarers from dozens of countries and have a dirct impact on their lives. We'll even get you home in time for supper!
How about becoming a regular volunteer ship visitor? Year round our chaplains and visitors climb onboard the ships that call into Boston and Providence ports and bring much needed friendship and assistance to the crew members.
Want something a little closer to Home? How about knitting, sewing or assembling our Christmas Ditty Bag items. Each year our chaplains bring 1500 DItty bags onboard the ships and with it, a little of the Christmas message.
Of course, we ALWAYS need your;
NESM has been in operation since 1885, and now reaches 25,000 people per year from 159 countries. Our core belief is that as a Christian Organization, we are called to open our doors of hospitality to ALL women and men who reach our doors.